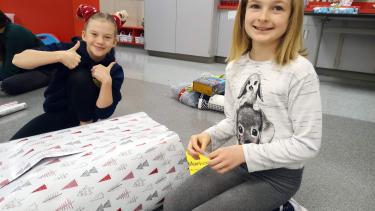 Sandy Hill Students Support Sponsor-a-Family Initiative
December 19, 2022
This holiday season, students from Sandy Hill Elementary gave back to their community and became sponsors for the "Sponsor-a-Family" program through Archway Community Services and the Christmas Bureau. The initiative began mid-November, and for several weeks the school worked towards sponsoring families and seniors in need in Abbotsford over the Christmas season. With an original goal of sponsoring two families, the school quickly surpassed their target thanks to the generosity and donations from the Sandy Hill school community.
"Sandy Hill's Christmas spirit is shining brightly through the generosity and thoughtfulness of our school staff and families!" said Sherri Adi and Jill Roberts, two educators from Sandy Hill Elementary and organizers of the school initiative. With the support of the students, staff, and school community, they were able to sponsor three families and three seniors.
Alongside the Sponsor-a-Family initiative, the school community filled bins for the local food bank and the Christmas Bureau, and collected cash donations of over $440.
Abbotsford Food Bank's "Sponsor-a-Family or Senior" Initiative, through Archway Community Services, is a rewarding experience for schools, businesses, or any individual to be involved in helping those in need during the Christmas season. Sponsors are asked to provide items in a food hamper, such as dinner supplies and gifts for their matched family and deliver them directly to their door.
To learn more about Archway Community Services and the Christmas Bureau, visit their website at www.abbotsfordfoodbank.com/christmas-bureau.