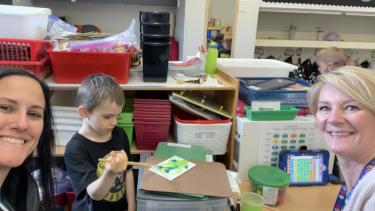 Education Assistant Connections
February 2, 2023
The EA Peer Mentor program started as a pilot three years ago and is now in its 2nd year of permanence. It currently has two full-time Education Assistant Peer Mentors, Connie Hampson and Alicia Kroeker, who support any/all EAs interested in the voluntary program. Upon registration, the two parties schedule their time together with the convenience of the mentees' schedule in mind. EA Peer mentors collaborate with mentees to support them in their role and work together to help the mentee feel more confident, provide encouragement, and strengthen their skills.
"The mentorship program has made a huge impact on me. Knowing I have an experienced peer I can reach out to for support and ideas when working with students is invaluable. I am grateful that I signed up to be a part of this program. It has given me the confidence and opportunity to take on new challenges in my role as an EA," Olanda Waltenburgh, EA Clearbrook Elementary
Paid bi-weekly EA Training is also under the umbrella of the mentorship program. These afterschool sessions are available to all EAs and are funded by the district. The sessions cover various topics and are presented by employees within our district and guest speakers from other educational institutions. These sessions have naturally become a place where EAs feel a sense of belonging and come together as an EA community to share, learn, educate, and collaborate.  "Thanks for providing these learning options. I think they benefit EAs that have been in the game for a long time and for those who are newer and coming into education," Julia Hiebert, EA AVS
The Education Assistants in our school district are multi-faceted in their abilities and show flexibility, creativity, and adaptability in everyday situations with their students.  An integral piece of EA Peer Mentorship is developing connections with our valuable and hard-working EAs, which have lasting impacts on both ourselves and the EAs with whom we have had the pleasure to connect. It has been a privilege to work with EAs across the district!
ALICIA KROEKER, EA PEER MENTOR
CONNIE HAMPSON, EA PEER MENTOR
Learning Support Services